Video Facilities & Equipment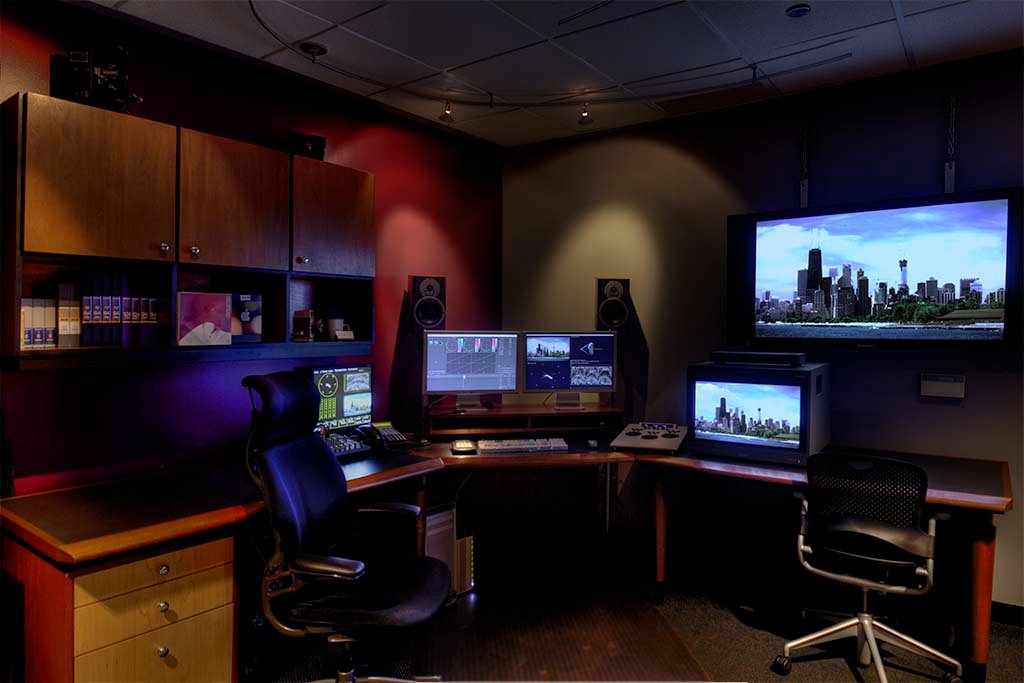 HD Video Editing Suite
Edit 1 is a comfortable and spacious creative editorial, color grading, and finishing suite that will meet all of your high definition and standard definition video requirements. Utilizing a fast MacPro computer with AJA Kona 4 hardware, our non‐linear workstation handles 4K, HD and SD formats. This suite features DaVinci Resolve, Premiere and a host of Adobe Creative Cloud apps, Avid Media Composer, and yes, Final Cut Studio, along with an assortment of other graphic, editorial and encoding software. Monitor your HD and SD footage on a Sony BVM-D24EWU 24″ CRT monitor, 50″ Panasonic True 1080p plasma display, and waveform/vectorscope.
Chicago HD Machine Room
Our machine room is stocked with Sony decks — HDCAM-SR, HDCAM, Digibeta, Beta SP and DVCAM — as well as a fully functional Kona 3 editorial and graphics workstation, 14" CRT HD monitor and data storage. Supporting hardware includes a Teranex 2D converter, AJA FS1 converter and a video legalizer.
Kitchen

Our modern, full-service kitchen is a large gathering place stocked with goodies. No matter what time of day or night it is, you have access to food, drinks and appliances to keep your creative juices flowing.

Reception

The reception area has plenty of room for receiving, relaxing and doing business. Collaborating with clients and colleagues is comfortable and convenient in our professional studio setting.

Conference Area

Our semi-private meeting space is perfect for conferring with colleagues, private phone calls or just getting away from the edit suite.

[Photos from our 1 E. Erie St. studio]